The reports have started coming in already:
That is a pretty harsh list to begin operations with. I get the feeling Apple was rushed into meeting a hidden deadline for release and the software 2.0 was not fully baked. The developers were put under pressure to get this new 3G device ready, without proper testing of all aspects. Having to reset your device to factory defaults more than once to keep it working is a sure way to have them returned right back to the Apple stores. If you have not totally tested a device that you know will form lines around stores, down blocks and have people standing for all hours to get one, then don't ship yet. It is funny how often we have to say that to hardware and software manufacturers. I know the race is on, even though the iPhone still has an insignificant share of the business smart phone market, but they want it. That is apparent. However, corporations have high standards in the devices they select and having a phone die on a CEO or CIO will have the iPhone tossed out on it's iButt..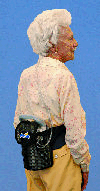 The numerous posts alone on battery life should have been a show stopper. Any device that is used to be used as a primary communication device as well as personal smart phone, PDA, butler and whatever else can fit on there better darn well last more than a few hours. Soon we will see people with large Apple logos on their belts which are extra battery packs just to tote around an iPhone. Soon to be called the Apple iBat
I will agree with Don in the post I link above, some of the charged rates for applications are a tad bit crazy. I want a couple of them on my iPod Touch for use around the house on the wifi, and was shocked to see some of the higer end priced ones.
Discussion for this entry is now closed. Please email me instead