I read about
this site
a while ago but heard nothing until today. All of the sudden they were open for alpha and I had an invite waiting. You know the early adopter in me. So as I loaded yet another WAS server for some testing, I went ahead and went through the steps for setting up an account.


The first thing to catch you eye is that you get to pick your own .MP domain. Yes I said pick your own. I imagine they are subsidizing this somehow, but good luck making a decent one up It must be 4-16 characters but can include numbers and letters. Apparently you can redirect another domain there too from within the settings, but I still say get a good one.

What is the site about
According to their own info, it organizes your digital life (it is way short on tons of supported services yet) and provides a dashboard. All within your own domain name that you just chose. So before anyone else really started thinking about cool .mp domain names, I selected
SocialPi.mp
Each domain you choose also will double as an OpenId site, and their statement allows you to pull your data out (read as DataPortabiltiy) whenever you desire, no walled garden here.

Setting up
The normal profile information is collected, but they raise the bar when adding some of the services they currently support. here is an example of when I went to add Twitter.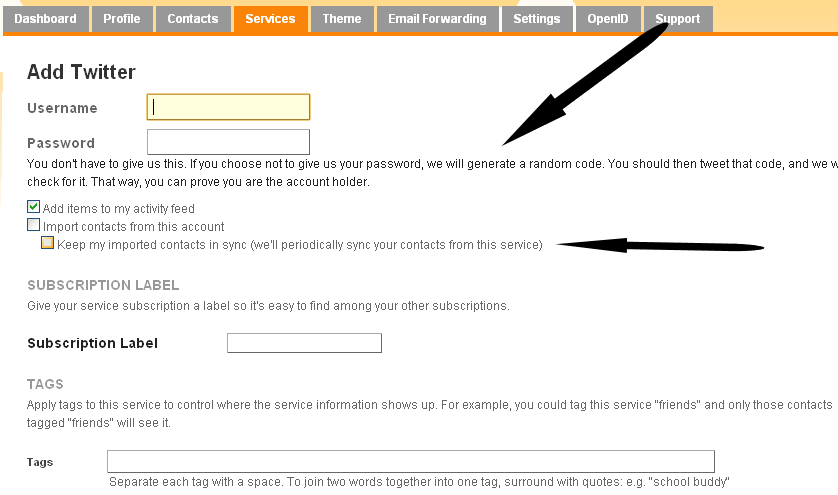 Not only will it keep your contacts in sync between Chi.mp and Twitter, but it does not ask for your password to get set up, it gives you a random code to tweet. Well Sweet!. Many of you hate when you are required to share passwords, here is your way out.
So what are the supported services?

Twitter
Facebook
Flickr
Facebook
Gmail
Hotmail
Yahoo mail>
other RSS feeds
I would expect more services will come soon. You will wait a few minutes for it to grab your data and contacts. So be patient. You may also add your public IM id names as well as other blog sites, phone numbers and addresses as you see fit for people to contact you. The end result? A dashboard that displays all your info that people could see and even download the vcard file from.
There was as slowness to the site as everyone has begun hammering away. Unfortunately they did not allow me to hand out invites, maybe I can wiggle some out of them. Right now I see this as a place that will have value in the time to come, a sort of desktop for yourself and homepage for others all wrapped into one place. Give it a shot and claim your name early on.
Discussion for this entry is now closed. Please email me instead