The idea is excellent and many people are trying to get into the beta. But as usual, I play devil's advocate and found a few items of concern, including a security question later.

One, Ping.fm doesn't fit into my day. Why you ask? I am glad you did. I like to post once and it to go everywhere, but I don't want to worry about answers all over the place. I currently post to Twitter, which has the following effect:

Blog - It shows on the right side check
Facebook - I am using the Facebook app so my status gets my Twitter update check
Jaiku - I pull my Twitter RSS into Jaiku for updates check
Tumblr - I pull a ton into Tumblr via RSS, including Twitter check
Pownce - I like it but try not to have 40 places to go
Twitter - that is the whole point here I think check
So they do provide a way to post to just one service at a time as shown here: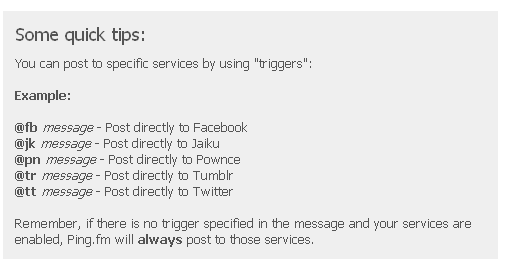 But here is where we run into one of the huge issues I have found. How the heck do you remove any of your accounts? There is no way to remove your data or delete the account. That is a showstopper for me in most instances. A screenshot here shows how simple it is to add an account, with no way to remove one
On the good side, the dashboard is quite simple. It even allows you post post via email or IM. That was nice to see. If they can get a Blackberry or other mobile interface they would take another step.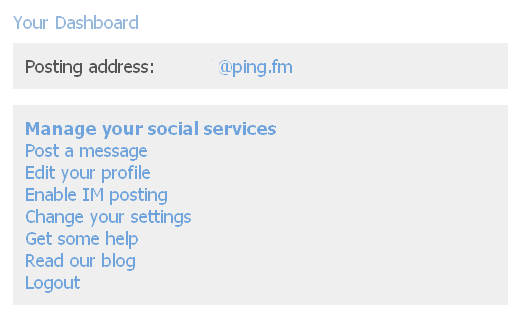 So overall, this will suit the needs of those trying to get deeper into being in a billion social circles. But that is what I have been untangling, streamlining my postings into one or two places and letting it filter all over. I have the map to prove it :-)
Discussion for this entry is now closed. Please email me instead