One more site
that claims to bring together all of your social profiles into one place, much like SocialURL(I thought at first) that I will talk about later. Their slogan is
Get Linked, Stay Together
. Well let me give some praise first, they state they support over 100 social networking sites, as shown below through a catalog of sorts. I was shocked to see even some newer ones available but not Jaiku, wierdness.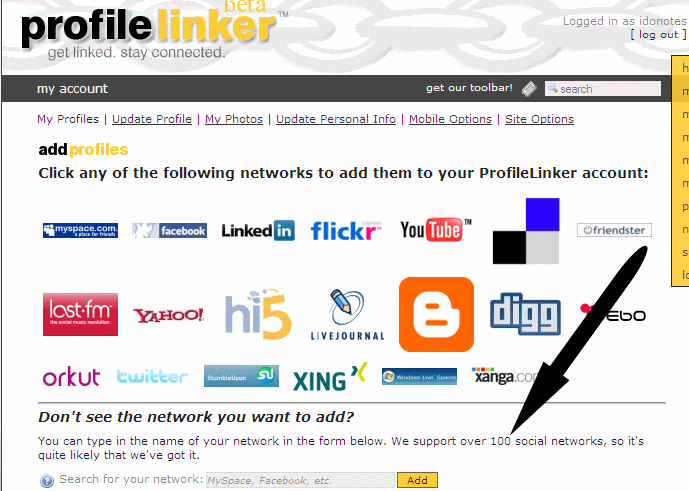 I did have an issue with the layout of your own portal page. Firefox had weird boxes floating on the side and it didn't have any flow to me. I know many users need simplicity, but this was a bit bland. Take a look at my first quick page with a few social networks defined:




I then took the step to manipulate the content blocks. While there were a bunch of choices, quick widgets for all the social sites I want to watch would be cool and easy to move around.




I can immediately say that I do not like how they optionally allow you to add your own credentials to get more functionality, but negate the fact that they do not offer SSL for this. Typing in my name for public listings is great, but no SSL for credentials if I want all the functionality is a bad business plan.

So I went about quickly adding in about 25 different site names to see how it worked. It constantly said Content pull pending for a while and then all of the sudden it came to life. There it began. After trying to add Jaiku as I mentioned above, I got a pop-up saying it was not supported and could not get rid of the box. It sat on top of their window and no matter where I clicked it would not go away. Once I got back in clicking around the greyed out area, the rest was the same as other sites. Messages, pictures, a whole string of things. I get the feeling there is something I am missing in how it is to make me stay on their site and use it extensively. But honestly, while it did attach to numerous other networks, I couldn't find the grab. The widget to show my friends stuff that I could post on any blog or page is nice, but they are my friends and I prefer a single portal for myself to look at and not pass their data out on a streaming widget set. Call my mindframe backwards there, but the widget should show a collection of my stuff, not my friends.

So as I opened with, they not only bring all your profiles to one place so someone could come to that page and get all your info, but bring your friends in from all those places to get you using it is some form of aggregator. The downfall, is not being able to post back to all those sites from one single place. I think that is it. A one way funnel in with no way to post back to all the places I exist.
Discussion for this entry is now closed. Please email me instead