I am starting to get requests to actually review sites before or right when they hit beta. But being asked doesn't mean I am biased. So this one came from Space Mail
I can say the entrance page was clean, bright and welcoming. So I went ahead, registered (quite easily) and went poking around the site. I always try to do as much as possible without reading all the help files to do what most every user does unless forced. Their theme on the banner was as follows:
Space Mail : Your Social Attachment
In a world where everyone is moving from circle to circle, why not put your social mail in to one easy space
Well why not? Centralize all that social ring stuff, makes perfect sense. I imagined this was going to be a
Meta Mail
of sorts pulling in messaging controls from all the social networks. This is where I fell flat real fast.

So you see the interface here below, now what the heck do I do with it?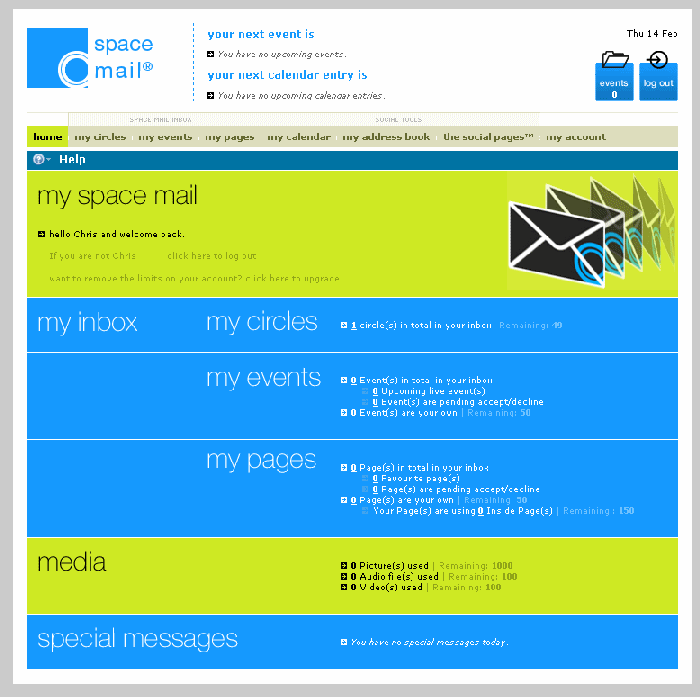 I clicked the first tab for my circles and named and created a circle. Guess what? I know have a circle where I can post a comment and invite people to come see! Huh? I really didn't get it. I thought this would consolidate a lot of my social stuff by providing access to sites in one place and be a meta place to make a posting and have it go everywhere. Maybe I am not there yet. I also noticed there is a free and paid version. In the free version you get 50 circles. Fifty? I don't need 50 more circles inside of another social site for sure.

There is a section for another address book and calendar as shown here



But I really don't want another place to store contacts. If they had made this site to pull data from numerous other social network sites like MySpace, Facebook, Upcoming, Gmail and more. Hidden all that in the back end under Accounts and then given me one mailbox an, address book and calendar integrated, we might have been on to something. Even the menu item shown above for The Social Pages had great promise until I actually tried to use it. So as always, take a look yourself, give them feedback and let me know what you think.
Discussion for this entry is now closed. Please email me instead