The train to get on the corporate social networking bandwagon is getting full, even though if left the station some time ago. Eager services jump on the moving train with what they hope will be the final answer in what every company needs. Well WhoDoYouKnowAt sent me an invite and wanted me to check it out. Always a dangerous proposition. After confirming my registration via email (what email address you use is important), I logged in for the first time to the following welcome screen.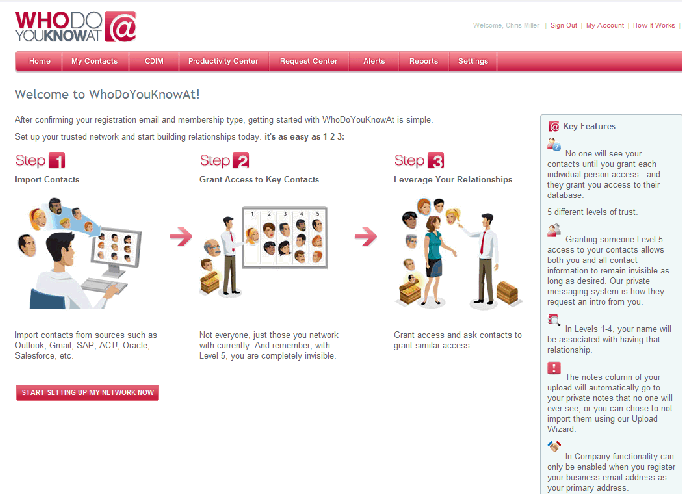 You can see they try to lay it out in simple steps, with a very broad range of professionals you might encounter in the images.
Step 1
Well this totally sucked. I would expect not just an import feature of csv files, but also some way to authenticate and grab my numerous social networks,
a la Gist
. Also, they move you to SSL which is great, however some of the images they serve are non-SSL so you get warnings. Just something for their designers to think about. Without the live hook and only using cvs files, this site then would never get changes to your contacts or dynamically update themselves. A downfall.
Ok, this sucked. Once I clicked to import contacts, there was no way out. I decided not to import anything and expect a cancel ot skip this step icon. Nothing. So I jumped back to Home on the navigator and was shown a dashboard.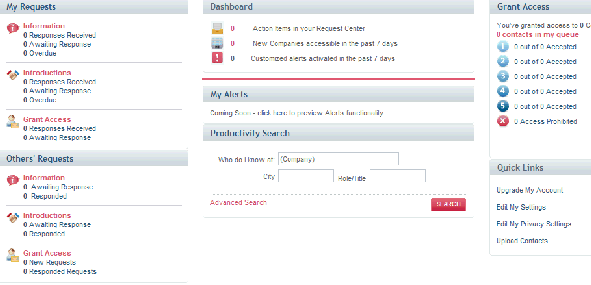 So here is the deal. I basically gave up right here. I navigated through the tabs to peek at reporting (coming soon), Productivity Center (not sure what was helpful there), CDIM and My Contacts. I might do a screencast on this later, but
Gist
still has my attention.
I almost forgot. They ask you to use your business email to register so you can utilize the features around who else is at your company on the service. I would imagine you should be able to register under an email that will never change (like gmail) and then add your business email as a hook. But that does not seem to be the case. The whole point is around you being able to maintain contact information, even when people change jobs. Including yourself. Under settings you can add more emails,and then change the primary one so notices and communications go to an alternate.
A low rating from me on this one for now.
Discussion for this entry is now closed. Please email me instead