Upon seeing what happened with TwitterCut over the past 24 hours, I am tending to believe that Twitter has now reached enough critical mass that it could effectively kill a company in the online and marketing world.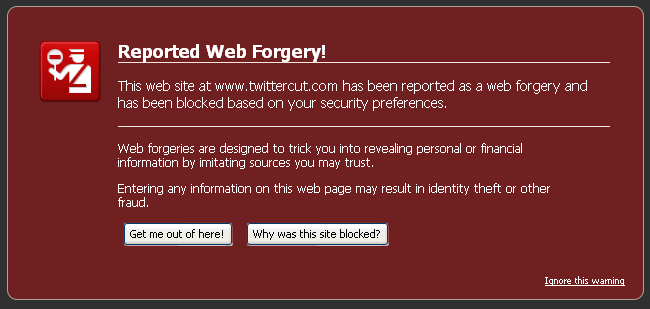 Damage that would be hard to undo and for smaller ones could be end game when they rely heavily on social media to grow. Mashable and InfoWorld (among many others) picked this up quick and issued articles of warning yesterday. Twitterers soon began spreading the word and my real-time searching was moving pretty darn quick and it was being retweeted over and over. Twittercut responded on the site itself:
FYI: According to several social network blog sites TwitterCut has been the bud of several rumours! Our website and its programmers can assure you that these rumours are not true and that TwitterCut is simply a Twitter train that was a work in progress! We were not phishing twitter accounts what so ever. That login script was a script I bought for 50 dollors. I see allot of sites on twitter doing the same thing as us. Were shutting down this site. - Twittercut@gmail.com
So let's assume a fast food chain really has no issue and someone drives enough interest in a possible food recall/poisoning for that chain. Would the drive of Twitter be enough to hurt them for the next couple days? How would they fight against it? Spend lots of cash in marketing, TV and social promotion letting everyone know they are totally safe. Which in turn costs them even more money on top of what was lost.
Where is the balance and checks? Who verifies the reality of the data being presented? Are we a bunch of lemmings that as soon as a big name says no go or that there is a problem we all follow along happily? I am not saying that TwitterCut was legitimate, just that I couldn't find much else other than it send out a tweet. The domain was registered May 21, 2009 by someone that listed his name, address, phone number and email. Who called Jordan or emailed him? (heck he even spelled "rumor" wrong a couple times and "dollars" on the notice he put up)
So what is a company to do in this world of social media frenzy? Remember when Oprah made a comment about beef and there was a significant, measurable drop for a while? Start imagining the bigger leap when CNNBRK gets hacked and someone sends a fake news alert out. While Twitter can remove it, all of the clients that get used (not the web interface) keep it and it gets passed on. Oprah now not only says something on her show but sends a tweet out saying ther same thing. What kind of impact do we have on that small enterprise that makes her favorite coffee cake? They get some overloaded it essentially stops business.
Leo Laporte
does this each week highlighting a website, they call it the
TWiT
effect where they take the site down as thousands rush to the URL.
I think we need a check and balance here.
Discussion for this entry is now closed. Please email me instead