I played with
this site
for a few weeks before saying anything. I was not quite sure if I liked it or not, but found myself checking it or debating on adding it as a RSS feed. What to add what the biggest question, since it was not clear.
The interface
This is quite the simple interface (see image below) showing tons of links in what they call a river or stream
River - links by a particular user and all users that then follow that user
Stream - links shared by only a certain user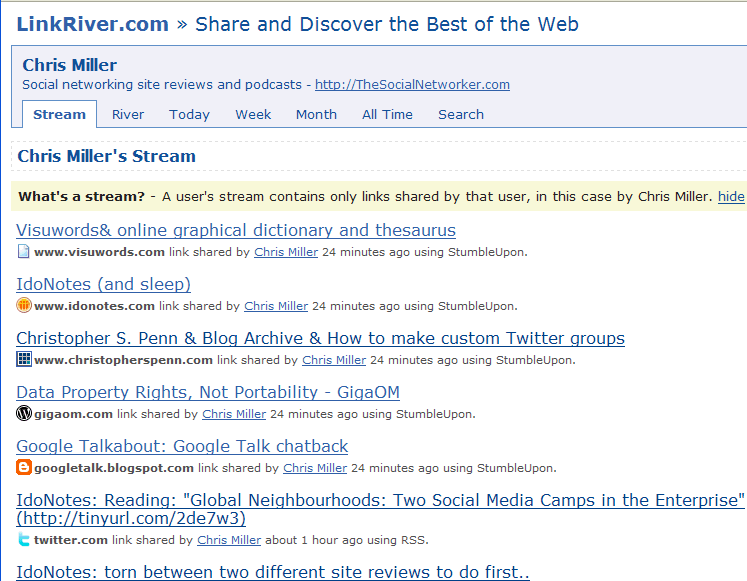 There is also a river of the top link sharers on the site. Who they are is not apparent, and doesn't really matter. To get yourself putting links on the site, there is no special toolbar required (yet there is one I found you can use to post direct instead of following your RSS feeds), click or pasting you have to do. Just import your RSS feeds of where you post links and it starts sucking them as you post them all over Digg, De.licio.us, blogs or whatever.
The usage
So as I mentioned, I did not know why I came back. But I soon realized it was interesting to watch the stream of the top people that have feeds coming in. There is no rating and raking like Digg, so everyone is equal. You soon learn who posts interesting and valuable links and you can then watch just their river or stream. But I found it to be much like watching the public Twitter channel. Except they are posting about their coffee the drank or how the kids did that day. You are getting links to other sites, posts and topics.
There is a popular river that I have found the best place to start. The watershed of information flows fast, so you might be better following this river by RSS yourself. Basically think of it as someone took Yahoo pipes and pulled links from all over, then hooked them with people that follow each other. Interesting twist to social bookmarking.
What they can improve or fix
I don't like the rating, so leave it off. But adding some ability to read tags via RSS would be beneficial and then let me watch streams on certain tags. Talk about finding the right data in a constant flow. I can think of many streams and rivers I would follow. This would also help me eliminate any crap that is floating on the river. With no siphon, scraper or filtering you do get some in your boots.
So ride the whitewater path (public area) first and learn to navigate yourself down to the calmer streams and rivers. Even if you get too much information to swallow and fall right over the waterfall.
Discussion for this entry is now closed. Please email me instead