SocialMedian
just launched the addition of a
Facebook
application. If you are unfamiliar with SocialMedian there is plenty of reviews including a
podcast I did
, but to summarize it allows you to find and follow people that can also find news you are interested in. There are groups as you would expect.
With the addition of Facebook integration, the default behavior is to automatically follow your Facebook friends as they join SocialMedian (as shown here). Well as you add an application, so does a ton of your friends to be just like you, who follow you who then have other friends add the application and so on. So if you have a lot of Facebook friends you did not know had tested the waters with
SocialMedian
, then you get a ton of invites right away.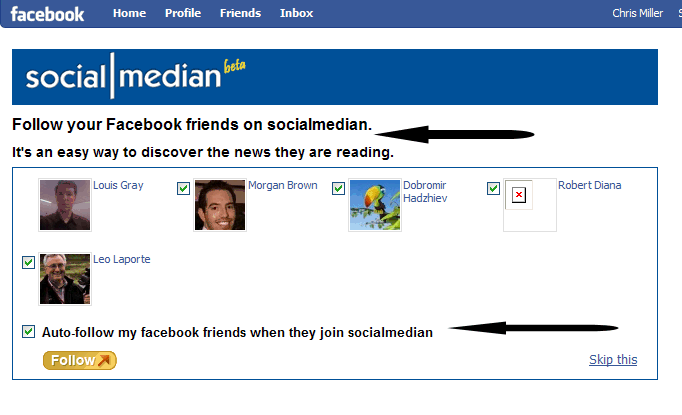 So how is this a downfall? I already mentioned it during the
podcast
. I have no way of telling who tracks good news and stories versus he lays out a bunch of junk. I have no way of establishing a reputation, outside of being popular like Louis. So how do I qualify myself and others as a news maker? I like the idea of the site and enjoy peeking in time to time, but there is something missing that keeps me from being there everyday.
Discussion for this entry is now closed. Please email me instead