I received my welcome email and beta invite from
Blellow
last night and wanted to take a look and their combination of micro-blogging, grouping, projects and meetups all in one. The first thing I noticed is they are telling you right away they plan on monetizing some of the features after the beta cycle. Great way to have a plan in advance and let us know .
Registration was quite simple and clean. I appreciate that. I would be interested to know why they did not choose the option for OpenID, Oauth or even Facebook Connect as options. However I simply picked a username, entered an email address and password and I was welcomed with the following screen:
I have to honestly say the screen is what I pictured in my mind before logging in. Tabs of some kind with a navigation panel on the left. Nothing earth shattering, nothing shocking and nothing exciting. I was slightly confused by one single line: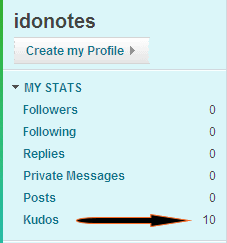 The first thing that crossed my mind was there is some sort of rating system built in that I have not seen mention of yet. But when we look further around the screen I can see where the idea pops in. (note disappointment later in the review) The actual input box of where you microblog has a few items to mention and digest all at once. I went ahead and marked up the image with some numbered points so we could have a discussion on them.
1. The input box allowed for 300 characters. This seems to defeat the purpose of microblogging since phones are geared for the 140 character range via SMS and people are getting used to it across the systems and texting. I know doubling the space would be awesome, but highly ineffective in what people are used to
2. Adding a photo is a great touch, almost like Twitpic allows you to do, but instead I do it all at the same site. Ok, wait I am a total liar. I clicked it anticipating being able to link to a web picture or upload a picture to send in the posting. Instead I was redirected to upload a picture of ME in the account settings area. Very misleading.
3. Add a file did what was anticipated. It dropped down a box asking me to upload a file with a maximum size of 5mb. I would also like to think that I could relink to an existing file if I was sending this again. I did not see that option. I would presume Blellow would not want the same file uploaded time and time again and would rather resend an existing one. As a user I would not want to upload the same file over and over either.
4. The ability to specify what I was doing or asking for help did give me some answers to the above kudos question. But how would a user following me know the difference?
Groups allowed you to join pubic ones or start your own. I was happy to see some groups already defined in the site. Categories were also available farther down the page. I know Blellow is going live at SXSW 2009, so there was a group for that. (hoping to win that free ticket from Blellow too).
BIG BUMMER
here. I clicked a group and got an error. I typed in a search for a group and got an error. So nothing more to report here. I did manage to get into the SXSW group and saw about 41 members. All I can report from the errors is that the system administrator needs to check the
production.log
file.
Here is something I did notice that users from other systems will not be expecting or used to. Hastags are in use inside of Blellow, but instead of # signs, they use % signs. I am not sure why, but I kind of thought the standard people knew was # signs?
The Jobs tab has sub-tabs for All, full-time and freelance. Yo can post a job for free right now but that moves into the premium services after April. Anyone can view jobs it seems from then on.
Projects included All, Paid and probono tabs. I guess if you are firing up a project and want some help this is a great way to work a single site.
Meetups allowed you to post and organize an event and included an RSS feed so you could keep track of all new ones posted. You could sort by All, In Creating a new meetup had plenty of fields to use, including privacy.
The settings page allowed me to also change my username, which actually did not affect past notices I sent. But somehow I had to tell people to see my new username. I am not clear on this and didn't get much info from the help panel.
SUMMARY:
While the site told me to invite friends, I didn't find a single place to invite, link, hook or whatever to get more of my friends into this site. Once again I didn't see the use for Kudos throughout the site, so I was not sure how that worked. I do like the idea of groups and private groups all brought together with microblogging and file sharing. But some of this needs to be tweaked before they hit the big stage in SXSW. While the team did a good job of a clean UI, there is nothing here that would make me move over and start using this on a daily basis. No, I am not worried about the crowds not being there yet, it is beta. I am worried about usabiltiy, and the feeling that I can be productive. Something will hit me shortly on what it was and I will update the posting.
One other item came to mind before I saved and published. Where is the alternate clients outside of the web one?
Discussion for this entry is now closed. Please email me instead