I received a press announcement about the unveiling of some new Facebook apps that students wrote during a college competition. I was impressed with what they came up with.
Admirer

- the ability to see all photographs and photo albms from all your friends on once central location. Instead of hopping around from page to page. Written by Yun Liu and BaoLun Sun
FaceMerge - merge the faces of two of your friends from their photos. Written by Yu Ouyang, Fawaz N and Minhaj Chowdhury
Mosayick - creating a large picture from other pictures. Written by Limmiao Xu and Billy Prin
Photo Search - find mutual pictures of your friends. Written by Charles Duyk, Scott Morse, and Larry Walters
TextTrade - Interactively buy and sell textbooks. Written by Paul Martin, Mike Smith and Spencer Powell.
I can see TextTrade having the most immediate value for anyone that has to buy text books each year and then wants to sell them directly, instead of back to bookstores for lower amounts. I wonder if they are taking a small cut of the deal. Now that would make perfect sense. Here is a screenshot form the students: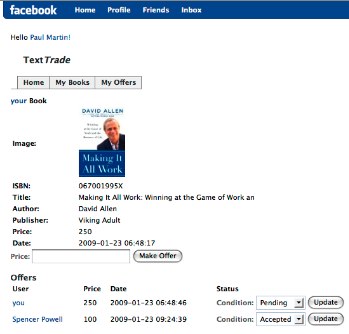 I received some more information from them including a group photo and some Powerpoint files. Overall a quite impressive display with much promise. It shows the speed at which apps can be considered, developed and deployed.
Discussion for this entry is now closed. Please email me instead