What the? How the? Where the?
Those were all the first words I used when I first saw the homepage and got into the site. After I logged in, the landing page looked exactly like before. Many colors, many boxes and no order or flow to do things. So let's get this straight from the beginning. The interface that welcomes you needs a serious overhaul, but the product behind the scenes does not get the bright star it should if users will not stay and use the site.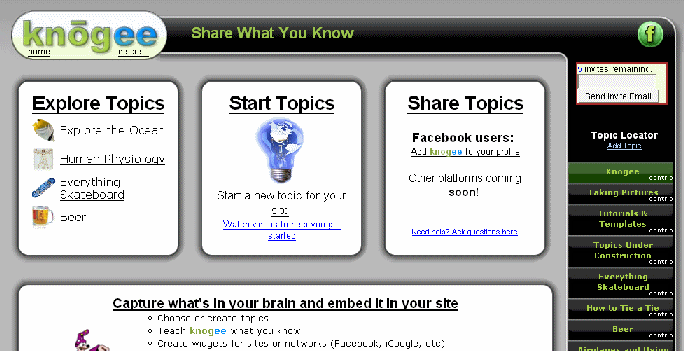 So here I sit, befuddled like any beginning user would be. But fear not, I trudge on. Determined to find the reason for this site and it's promise to help me sort or control what is in my brain. So I jump to the little green button for
the tutorial
.
Knogee is a web 3.0 site that helps individuals, organizations and communities assemble and interact with deep knowledge on a range of specialized subjects.  The heart of Knogee is a new type of intelligent agent that questions, guides and collaborates with users and then uses what it learns to repeatedly canvass the web to find fresh, highly relevant information.
A
Web 3.0
site! Whew knew we made it out of 2.0! Ok let us get serious. It is supposed to learn and help you make widgets. The
Personal Edition
is free and there is a paid edition.
A ha! I told you I would find it. I started my own knowledge map of sorts. I created a topic, created some basic questions and some sample answers underneath. The product then goes out to the Internet to help you start building this knowledge collection. Wow, it came back blank, but I knew one key thing I wanted focus on. DataPortability. I put that into the Google tab instead of the new Knogee tab and bam!!, it lit up like a Knogee tree. This thing called the Knogee Harvester goes out and picks the fruits of knowledge from the Internet it seems. Impressive listing on my topic with a voting ability to help your knowledge quest grow. From there I hit a darn wall once again.
Anyone want to get in there , or from Knogee, and explain what the heck is going on?
Discussion for this entry is now closed. Please email me instead