I ran across NewsCred quite accidentally from an
article on TechCrunch
a couple days ago. When I first went into the site, I was unsure what to make of it. Another news site? Yet another place for people to get their blogs listed and then get their friends to vote on it (a la Digg)? Another test of my patience in trying to set up some semblance of a proper newspaper reader? Well, no it wasn't so far.
Upon first glance, you are a bit confused why there is just a listing of articles on the screen with no apparent order reason, yet the outline looks vaguely familiar. It is a newspaper folks. They draw in, and I quote:
3 Tbsp - We took the 100 biggest newspapers by circulation worldwide and extracted all the English language ones.
1 Tpsp - We then took the top 50 US newspapers.
2 Cups - We combined that list with the top 100 blogs ranked by Technorati
From there, the next step is where you take control. You are able to select the news sources you want in each category (ie: world, business, technology, sports, etc) and have those show each time as a custom newspaper. Sources are ranked with credibility scores that has an apparent algorithm behind it. The author of the posting as well as the news source posting the article is accounted for in this mathematical matrix. The matrix then pushes out a graph of credibility by many categories, even with a RSS feed to follow as shown here:
If that is not enough sorting and ranking, each individual article has it's own unique credibility number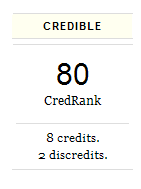 So for the layout, newspapers on the left, blogs in the middle and your sources on the right. After about a day of letting it sit and testing it out, I am back and here is what I think the good and the bad is:
Good
Multiple well known and defined sources of articles from major newspapers
No way for you to randomly submit feeds as to blow up a site with crap authors and articles
A relatively simple interface that has some basic cleaning up to do, mainly in the selection area
Very few ads that disrupt the whole page flow
The ability to customize each section of the newspaper to your liking
I can get feeds in all my categories from RSS, yet that stops me from rating the credibility
An integrated sharing pop-up (but see below)
Email to is integrated into their site instead of launching your mail client
A decent user giude, FAQ and 90 second tour, freakin hooray!!
Bad
No apparent way to mark something read, how does it go away? How do I save it for later?
Credible ratings are not visible on the summary news page, you have to open the article. Showing the number would not kill real estate
It isn't clear why some articles are discredited, and confuses me if I should read it.
Even though I do not read the sports section, having more direct sports related sites would benefit them
I mentioned it above, the RSS feeds are cool but it takes me away from the site, why come back to rate?
The integrated sharing pop-up is nice but why not let me put some of these social bookmark sites into my profile for easier cross posting. It seems to utilize AddThis.com without any apparent warning, I did not like that since those preferences get stored outside of NewsCred and it is not highlighted in my eyes it was doing it.
Have the ability to hide my news and blog source selection area to give me back screen real esatate. Wait, then they have to move the simple ads they have, hmm, sounds like a UI design issue here

Overall, a site that I will watch grow and try to use for a while and see if I can get my daily newspaper headline fix. I have some other sites I use regularly, but that is another posting.
Discussion for this entry is now closed. Please email me instead