Nomee
is an Adobe Air application that allows you to consolidate your network profiles into a business card. The benefit does not only reside in the consolidation, but the ability to specify groups of people and different parts of your profile that gets shown to those groups.
For example you have a business card with your company blogs, sites and all your public social network/media profiles. You then have another that has your home address and phone plus personal profiles on networks. Lastly you have groups that may blend them together. What happens next is where they stand out. Here is a quick business card screenshot (outside of the demo networks)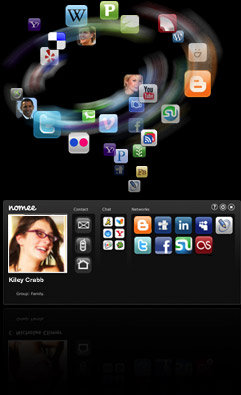 As you can see from their sample, they are now reaching out to over 100 sites (you can add manual ones) and pulling your profile updates. Once in the client, I show you in the screencast how it will poll all of your friends cards looking for updates across their networks. In one interface. So you get updates from what they share with you on that particular card.
I was a bit lost at first, admittedly. But once I started playing with it more I wanted to find more cards to start consolidating how I saw things. Until....I don't like the fact that it launches me to public web pages, I was hoping for something more inline with the app. That is a showstopper in my mind. If I am going to live the poling an consolidation in the app itself, I do not expect to run to every site and get the updates when clicking buttons. Let the app pull that data for me and show me in a clean interface.
It performed well and everything I clicked on worked as I expected. All the business cards float in their own window when you click on a persons card icon. I wish that was optional, I don't want everyone floating nor would I want everyone glued. Some people need to stand out more. I did see how they are going for a revenue model right away by embedding ads in each card (you see this in the screencast).
Making a new personal version card for myself was very simple and I could assign new pictures and alternate IM, social and mail accounts to it. I saw the benefit and ease there by checking and unchecking items I did not want to show.
I could keep rambling, but I like what they are doing if they can get the information pull into some slideout or popup so I am not worried about a browser bring available. A mobile version is in the works, per their site and I will leave this one loaded on my laptop and check out the next update to the beta.
Discussion for this entry is now closed. Please email me instead