SocialThing is already getting
beat up
(also on
TechCrunch
) on the fact that they call for your login information to the minuscule handful of sites they currently support. You would imagine that to compete they would include so many more (here we go pointing to
Profilactic
again with over 100). I am not going to compare this to FriendFeed (which has it's own issues), let us start from scratch as I always do.


So I logged into the site and it prompted me to add some accounts to start pulling data. The dynamic ability to know when I added friends (by providing login info) was nice, yet scary all at the same time. I added Twitter, Flickr and Pownce to test things out. So here is the first image, I pointed to a couple items to start.

It does highlight items that are directed specifically at you (ie: Twitter)
It does show items you post with the SocialThing icon, so you know it is one of yours.
The settings are was quite weak, with it still showing the same account list no matter if I had entered previous accounts or not and no way to see those that I had entered. Now I did manage to find some icons at the very bottom of the window that related to my account as shown here

But I found that this was a terrible implementation since these same ones could not be found in the actual Account configuration section as shown below. What was happening in the image was it showed all my accounts as they loaded and then the icon vanished. So there was no good way to reset or remove your account. When I tried to go back into Flickr it told me I was already using that name in the service, with no way to change or remove it!!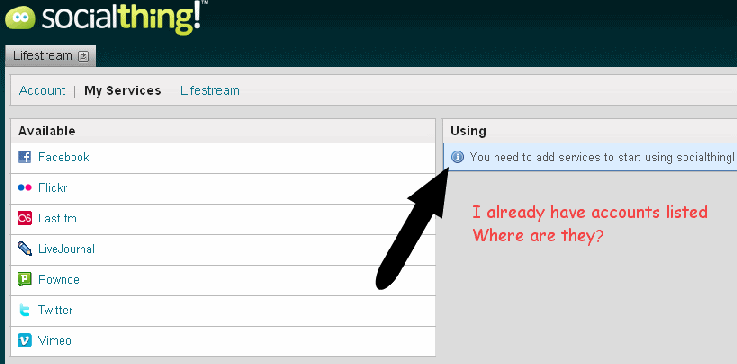 Sorting the lifestream was by user or time, and the ability to include your own items or not.
It seems I can reply to Tweets that others have done, but I cannot post my own Tweets from the application, which defeats the purpose. I am playing with many different Twitter clients, but I am getting the feeling no one is getting it in how to bring everything together.
Before I rant on too long, I would read
the forums
. it seems other services that you could integrate have vanished and tons of bugs in kinks to work out. Yes I know it is beta, yes I know to be patient, but they are missing chances for good first impressions. That is what makes the site sticky.
Discussion for this entry is now closed. Please email me instead