I
ran across
the following picture, sent from a friend today, and it sums up the many ways we all take part of VGS. The funny thing was, I can't recall the last time I sent or received an actual letter someone put a stamp on and mailed. Well outside of Amazon shipping something. The order of the steps I don't think meet how those of us in the virtual world consider friendship levels, but they all do exist.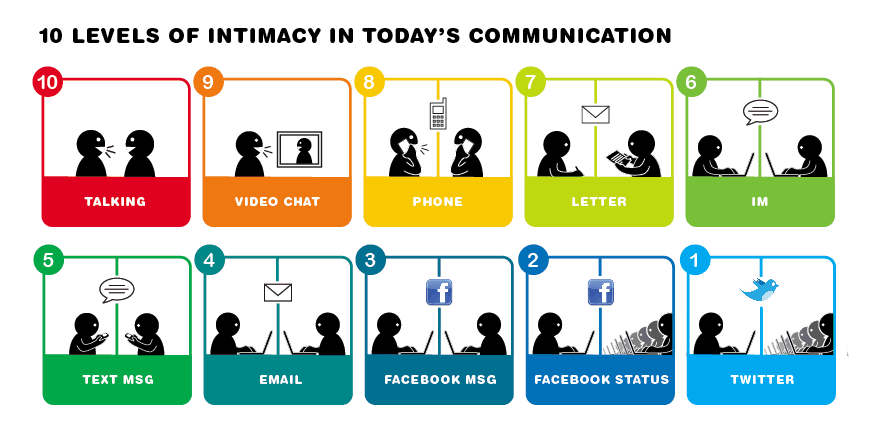 Age plays a big part in this also. While kids may put text messages and
Facebook
right up there in the rankings, our older generation doesn't do much tech according to statistics. So talking in person, phone, letter and email are the final steps. I personally think steps 8 and 9 should switch places as most of us consider the phone communication right below talking in person. What about you?
**************
Further
VGS
entries:
| | |
| --- | --- |
| Created | Subject |
| 06/10/2009 | Virtual Gratification Syndrome (VGS) - The Twitter API Breaker |
| 05/19/2009 | Virtual Gratification Syndrome (VGS) - The Co_friend |
| 01/27/2009 | Virtual Gratification Syndrome (VGS) - The Over Information Gatherer |
| 12/10/2008 | Virtual Gratification Syndrome (VGS) - Social Network Refugee |
| 12/01/2008 | Virtual Gratification Syndrome (VGS) - new Repetitive Posting Syndrome (RPS) |
| 11/17/2008 | Virtual Gratification Syndrome (VGS) - the publisher aka Minutia-streaming |
| 09/18/2008 | Virtual Gratification Syndrome (VGS) - Social Stalking |
| 06/23/2008 | Virtual Gratification Syndrome (VGS) - Forcing Temporary Remission |
| 05/12/2008 | Virtual Gratification Syndrome (VGS) - Profile of a Social Networker |
| 05/08/2008 | Virtual Gratification Syndrome (VGS) - the dosage issue |
| 04/14/2008 | Tweeting in the bathroom - the new social crime |
| 04/07/2008 | Virtual Gratification Syndrome (VGS) - the variance |
| 03/12/2008 | Chris Pirillo further proves my VGS theory is true |
| 03/11/2008 | Virtual Gratification Syndrome (VGS) - you have it |
Discussion for this entry is now closed. Please email me instead