First we all got Mooshed, I mean Mash-ed (
part 1
and
part 2
) a while ago by Yahoo. Yahoo! now
states
they are filling the void between Facebook and other sites with one to bring together alumni and current students. It almost sounds like Classmates.com or even Reunion.com with some worse that crappy information blocks to fill in. It all starts with the following page where they ask you to chose your current situation. I feel sorry for those that went to multiple schools or dropped out.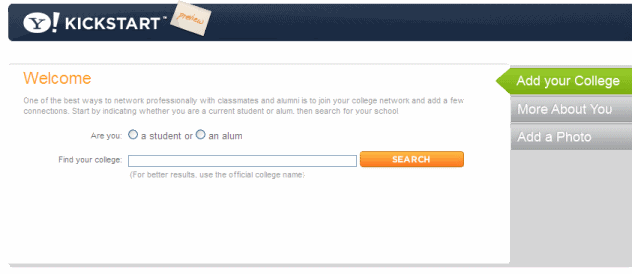 So I went ahead and picked my school. Interestingly it attempts to show the logo for you school. Well in picking a handful, not a singel one of them had the school logo available. it even let you upload your own.

You are allowed to add where you have worked (LinkedIn). You first do a search and if your company is not found then you can add it into their directory for others in the future. Affiliations work exactly the same way to set organizations or societies. The More About Me area is some simple lines for you to fill in as shown below.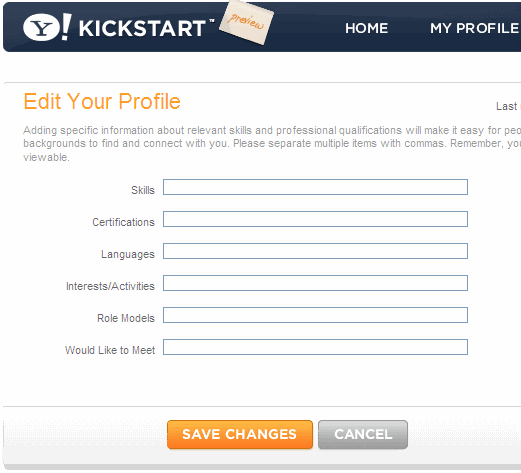 Lastly there was a search area. I did the name Steve for grins and only got 8 matches so people are not signing up just yet. You could search by 3 other attributes though.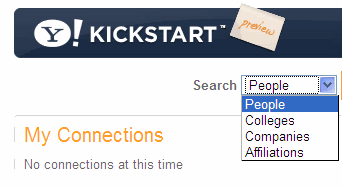 So overall this is just as bad as the attempt they made into Mash. The Mailbox feature was senseless since I have to sign into Yahoo to get into Kickstart, why does it not link to the Yahoo mailfile. Why in the world would I want another internal to Yahoo mailbox when they force me to have one in the first place with having a Yahoo account to use this service?
Discussion for this entry is now closed. Please email me instead