This one is a winner folks..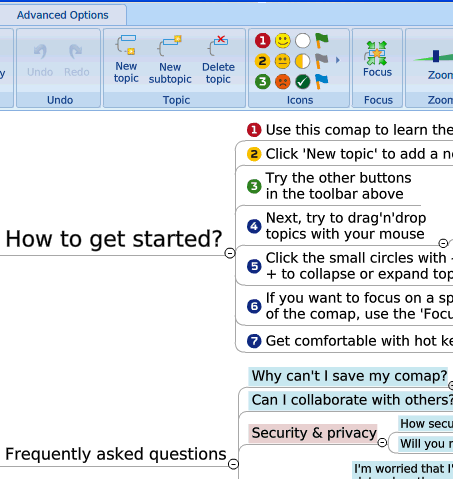 When you think about saving time, too many of us overlook simple organization of what we have to do each day. Not too many of us have the same exact flow each day, there are tons of little things to get done, calls to make, appointments to get to. So having a living map can really simplify and organize your life. In walks
Comapping
at a prime time that people live in browsers a good portion of their computer time.
I was already a big user of MindManager software, so a web-based version through
CoMapping
caught my eye for team collaboration. If you have not played with mind mapping software, they have a live demo you can actually play with to get a better feel. The ability to do all this via a web interface is nice and gives flexibility to many people installing and running the same software to simply brainstorm. It runs on both Windows and Mac with some incredible cool auto sizing and formatting technology for your screen. They call it
Intelligent Auto Focus
.
Features I loved:
One cool feature was the ability to grab a portion of a map and instantly start sharing it in presentation mode. This takes you from a brain dump, to forming the ideas to presentation in as fast as you can type and spellcheck.
Access control abilities for the map that also allow you to invite others and even send reminders
Change control logging
Built in templates
Hotkey navigation
Viewers of maps do not need to be paid members
Maps are kept up to 3 years of the end of your account
Now let's blow this out of the water. This group got another grant to keep going and this feature sums it all up;
This program allows you to continue to use of the application during both temporary and permanent loss of internet connection. In such a case, Comapping notices that the network connection has been lost, notifies you with a red light in the corner, but allows you to continue to work. Comapping will save your data in memory and when you regain internet connection, it will automatically notice this, and synchronize your data in a seamless manner. If you do not regain internet connection in your session, don't worry: The data is also stored locally, and next time you start the program, you will be asked whether you'd like to recover you offline work.

In other words: Comapping supports offline usage today without the need for things like Google Gears or Firefox 3.0 (with SQLite), Adobe Air or Silverlight. It works out of the box using your browser only.
Discussion for this entry is now closed. Please email me instead