So you want a new all-in-one, consolidated client? What would it support?
AOL
MSN
Yahoo
ICQ
Gtalk
Jabber
What if you were part of social networks? What would it support?
What if you had email? Would you check it?
Gmail
Yahoo mail
AOL and AIM mail
Hotmail
POP and IMAP accounts
Whew, can it be done?
So there is a screenshot of the client, that has options to have things in your system tray as requred for email and the social networks. What about a screenshot of the preferences?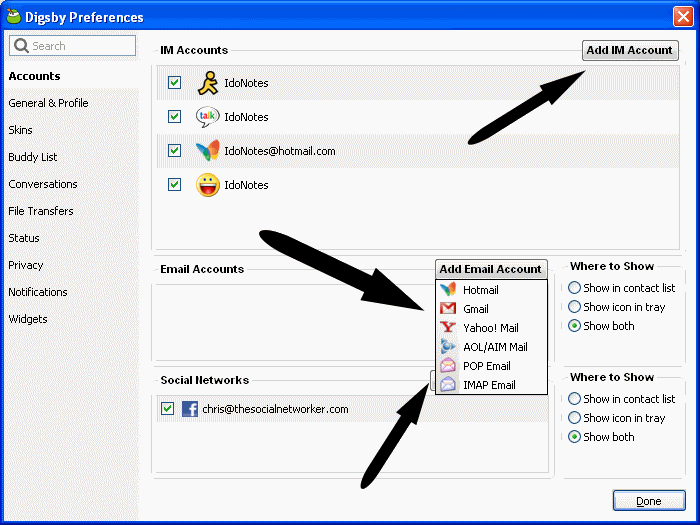 Well after I played with this some, I found that it did not do Twitter yet (I suggested it to them), nor did it have the hook for Sametime or LCS (not unexpected). I can see more social networks coming in also as they grow the beta and the product. But what I did enjoy was the tiny pop alerts (as shown here)

that not only showed you the feed event, but let you have a mini chat window if you wanted to.
One other item I enjoyed was the slideout for the social network viewing as well as the ability to do some basic mail functions from the client. This has saved me time already and if they listen to suggestions for more inclusions, a real winner. Couple this with
Spokeo
for reading all the friend updates from all over and I have two things running that encompass the social network world. At least until tomorrow comes along.
Discussion for this entry is now closed. Please email me instead