A usage survey for social networking in the enterprise hit my desk today with some simple, yet direct questions. Here is a sample of what they asked. Notice the influx of particular tools, not just social network type sites (ie: bookmarking, microblogging, photos, video, etc).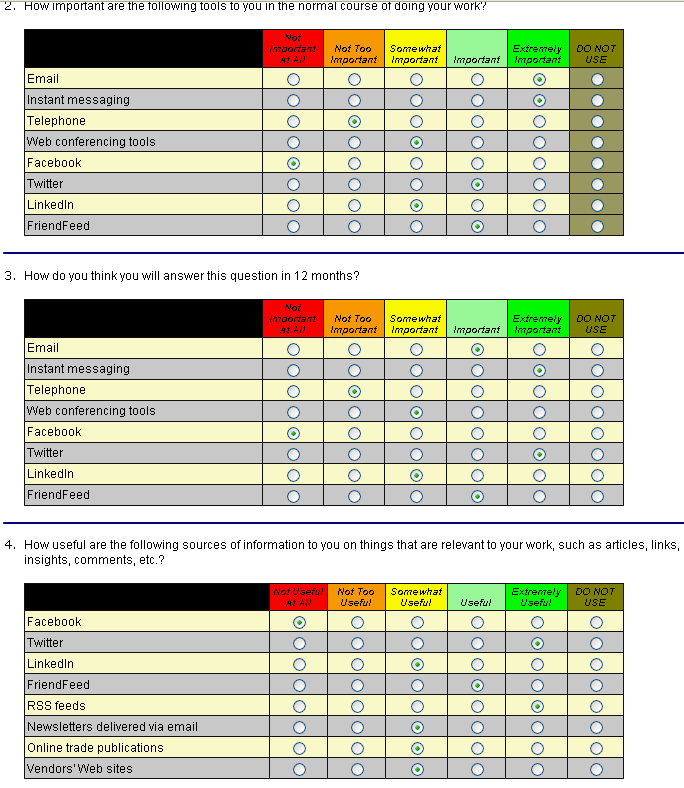 So why am I taking interest in the above grid? Simple. The focus of tools in the enterprise is something many IT groups and departments are taking for granted. They think:
Sure, user are on the sites, we are trying to block them. There is no business value. Even though we play and goof around in these very sites most of the day ourselves. Our marketing department is starting to understand how to use these tools, but they don't get it.
Many of you have had this very thought race through your mind. How about meeting with the marketing teams and sharing your knowledge of how you best use the sites. Where you get your best vendor information and feed from? Wouldn't your very own business you work for expand and reap the benefits if they were sharing information the same way?
There is a huge decline in the way we all communicate. Voicemail was the 80's. They say email was the late 90's into the new century. Now we blast massive amounts of data hoping to get noticed on the next wave that rides through. If your company or organization is not out there looking ahead now, they will be certainly looking from the back soon.
Discussion for this entry is now closed. Please email me instead