I read with high interest how a team came together and built a Web 2.0 type site that launched in
just 54 hours
. An impressive feat for sure. So I gave it a few days and stopped by as shown below: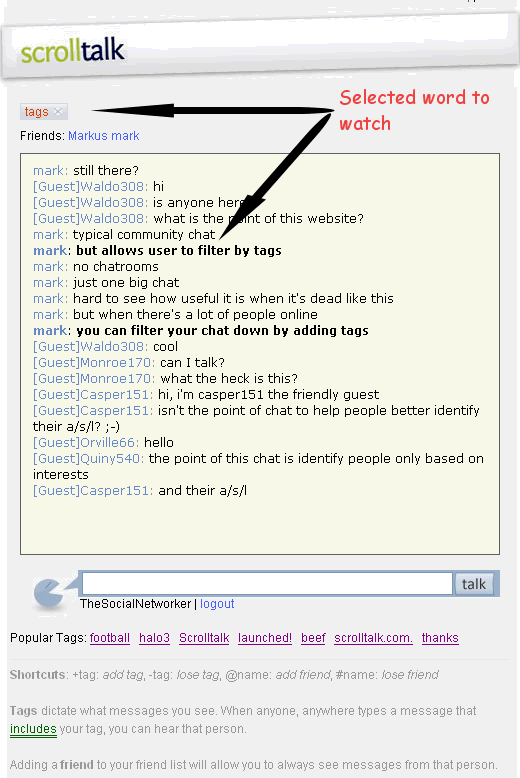 I made two separate visits to the site and found the same result. People have read about it, but didn't get it. While some of the UI needs to be polished, the idea is a change to scrolling live chats. It doesn't fall under the category of persistent chat, but adds a new ability to tag words or people.
I read their help and liked the analogy that this chat is one big room, but in that room you can single people or topics out to have conversations. All at the same time some of the main chat is filtering in like you could hear background noise. This lets you jump into other topics.
I happened to catch one of the business development guys from ScrollTalk on the site and suggested such items as a blog widget I could have on my blog and even moving a couple UI items. I also tossed out the idea to let you link to other profiles you have on the Internet so you do not have to recreate one since this site isn't about profiles. Past that the login page needed a bit of work, but the chat itself works great.
I clicked the word tags and it adds it to a watch list and highlights the lines that include that word. (as shown and pointed out in the image). Well, I take that back. I added more words hoping for alternate colors or more highlighting and that did not occur.
A list of users on the site in some sidebar would be good so you could grab then and add them as friends. I understand clean UI's, but even an expandable box would be welcome. What happens when this site becomes so popular that you cannot select or catch up. A pause button might be in order also. I can see clicking the wrong word or person when the chats start growing. Even some alert ability for registered users would be nice when certain keywords or persons are in. A widget brings this to the forefront.
I think this site would be a welcome addition to any group, community or blog that wants some live chat ability on your topic without having to code it yourself. But at this time, not a place to just hang out in all day. I will keep tabs on them and revisit, but for the initial launch, scrolling by.
Discussion for this entry is now closed. Please email me instead