In a discussion today in a group chat (that is based around an upcoming conference) it was brought up how to effectively communicate and locate each other when there will be upwards of 8,000 people there, in person. How do you quickly sort through a large
Twitter stream
, or how do you build a location awareness service around conference rooms spread across 3 hotels and open areas? Without making your own tools, it adds a high level of complexity. Services like
Brightkite
are not really made for that type of location service, even with the awesome ability to upload pictures.
What soon came to mind was that this little micro-community, far exceeds the benefit of posting and weeding through the larger macro-community. That is why sites such as
Ning
as so popular. You can build a smaller, manageable community that deeply serves the needs of the users, instead of being trapped in function based on large scale deployments. I whipped this ugly drawing up quickly.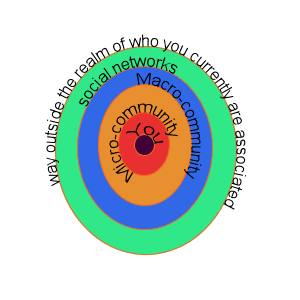 Examples of any micro-community is one built around your blog for starters. You are the core of everything involved. It revolves heavily on the core's participation and draw as a person with content needed or wanted. No matter how niche it is. Those of you that read this blog on a consistent basis have grown to become my community, where I pay close attention to your comments, feedback and how you share and/or "like" it on sites like
Friendfeed
. It helps drive the future postings and I watch my micro-community closer than the rest. It is the strength of the rings themselves. Each of you is a core with your own micro-community. As you share content across your own micro, the intertwining begins. In saying this, you may have started numerous micro-communities. For example this blog,
IdoNotes
and
TheSocialGeeks
. While they inter mingle in some areas, they are distinct.
The macro-community is how sites like FriendFeed show content from outsiders in your stream, based on who you currently associate and follow. It assists in helping grow other micro-communities, not just to broaden your knowledge.
From there we expand out into the true social networks where our percentage of reach is smaller and dilutes as you see the ring go further outward. Once in a while, one of the outer rings slowly strengthens in tighter and soon becomes part of the core. The social networks are the containers of both macro and micro and the pendulum swings inside of them how the larger micros demand.
Once you break the barrier of any social network an leap into another one, you start the task again of building a micro-community, or do what some of the big names do and bring your micro with you. Social networks then intertwine and your micro-community expands and grows through branches.
So how big is your community?
Discussion for this entry is now closed. Please email me instead