I took a shot at yet another social aggregator upon returning home from a tech-free week. (yes many of you noticed the absence without warning. Even though it was on my tab for where I will be). A quick tour of Swurl turned up some good and bad.
What it does - it aggregates of course. Put in your username for the proper supported services (about 19 at time of writing this) and it starts pulling info. From there is provides some views of your social networking activity. It also will start reading your friends from sites and populate a view. I was saddened to see even after letting it sit all day it only did Flickr. I had set it up to see about 8 of my accounts.
The good first -
I like this snapshot view of your activity in a calendar format as shown here: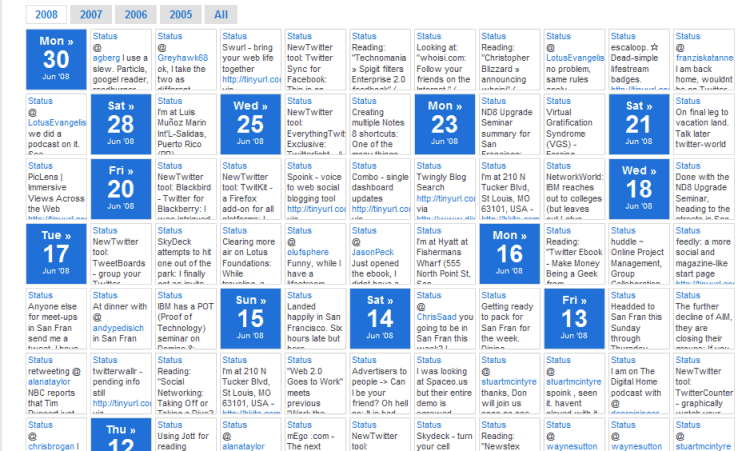 A cool calendar approach that had many sorting abilities. Lower in this grid, Flickr pictures showed on the day posted as well as YouTube videos I published. I can see this as a cool widget for all services on your blog. Forget the dreaded "About Me" pages, put this darn thing on there and let them figure it out.
Your account becomes part of the URL, mine is
http://idonotes.swurl.com
. An oddity was that it would not let me make the name IdoNotes saying caps were not supported. Now call me crazy but the Internet could give a damn if I use a cap or not in a URL. Whatever.
There was an advanced setting feature to let you point a CNAME entry at your page. I know exactly what that mean, but for a basic user, they would be lost.
The bad -

they have the ability to invite your friends, but instead of their server sending it, it pulls up your default mail client. A pain if you were not in mail at the time. It also does not allow for you to grab contacts from any of your online services (like Gmail, hotmail, etc) , then select who you wish to invite. Bummer there.
There was also no widgets yet there are ready to be built nor any RSS feed output I could find. So once they get settled in some more and furhter in teh beta I will try again
Discussion for this entry is now closed. Please email me instead