With the
recent news
of Facebook becoming the second Internet as we know it, they have embraced the need for consumers to track everything they purchase and where they bought it. So introducing the first image of the Facebook Citizen Preferred credit card (image below)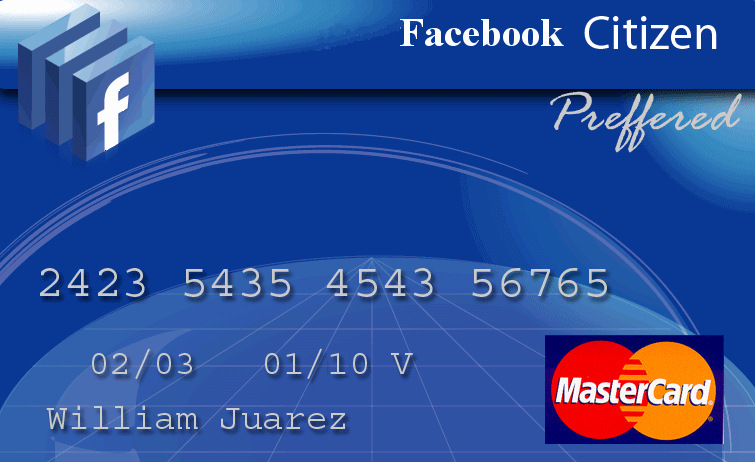 Imagine a social graph built around things like the following:
clothing purchased and sizes
shoes and sizes
movies seen and rented
types of live events
favorite restaurants
where you buy groceries
where you buy gas
where you travel
what hotels you like to stay in
what kind of coffee you drink
the list is endless....
With the new Facebook Preferred card, you not only become a consumer of these goods, but a Citizen of Facebook. Where your every movement is then tracked, graphed and soon, mapped via location services as applications in Facebook. While they build the walled garden to keep other financial institutions out, they will be growing in how much they know about you.
Advertisements will be shown that exactly match what you not only buy regularly, but what you will buy in the future. Oh you will want it, they know it.
Friends and family will get personalized birthday wish lists sent to them. No more guessing what you don't have or really need.
Anniversary gift lists that combine you and your significant other as shown in your relationship status will be generated. no more making the significant other mad when you pick the wrong thing. You can't anymore.
When whole families use the card, vacation packages will be shown that everyone would enjoy. Make the kids and grandma happy in one trip
Your significant other will immediately be able to see where you just were and when she is getting what you just bought. No more sneaking to the local DQ for an ice cream cone without her!
So sign up today and get your Facebook card. Facebook is financing it with ad revenue so no need for the banks as middle men. You will transfer money via the new Facebook Funds. Don't worry about the interest rate, they already know your credit score for gosh sakes.
Discussion for this entry is now closed. Please email me instead